Old cable price
Old cable is a collective name for almost all types of cables and therefore does not necessarily have a PVC sheathing. Old cable occurs as production remnants when producing cable, but it is also released as a remnant when a new cable network is installed, replaced or removed. Main suppliers of cable at Krommenhoek Metals are therefore mainly installers and demolition companies. Old cable is present in almost every Dutch household. This is because cables are often used in household appliances to guide electricity. Many individuals therefore also return their old cable to Krommenhoek Metals.
Hand in old cable or have it picked up
In case you are planning to return old cable, it's possible to do that at Krommenhoek Metals. Would you rather have it collected by us? That is of course possible! We are happy to be of service with our old metal box container service concerning larger volumes with our scrap containers. This way you can hand in your old cables easily and efficiently. Upload your photo here or click here to contact us directly.
Examples of old cables
• Cable without plugs
• Household cable
• 4-core copper cable
• 5-core copper cable
• High voltage cable
• Thick copper cable
• Peel cable
• Installation cable
• Installation wire
The value of old cable
Having old cable recycled can be very valuable, Not only for you, but also for the environment. Do you want to return old cable and have it recycled? At Krommenhoek Metals we guide you and ensure that receive the correct price for your old cable. You will always receive the most recent old cable price from us. Due to our prominent position in the current market, we publish the old cable price daily. You can find this online at the scrap prices page.
A historical overview of the old cable and other prices is also published here. In this way you are always aware of the latest price developments.
Hand in old cable at Krommenhoek Metals. Against the highest cable price and online every day!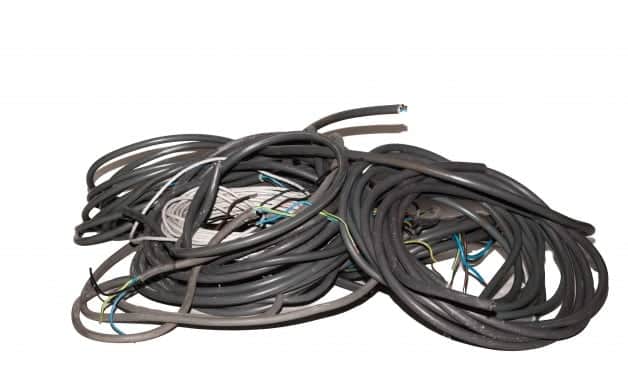 Bereken eenvoudig de opbrengst